LM Perpetual SS
Reference# 03.SL.S
Availability: See it at 430 Park Avenue
Case: stainless steel
Size: 44 mm x 17.5 mm
Movement: Fully integrated perpetual calendar developed for MB&F by Stephen McDonnell, featuring dial-side complication and mechanical processor system architecture with inbuilt safety mechanism. Manual winding with double mainspring barrels. Bespoke 14 mm balance wheel with traditional regulating screws visible on top of the movement. Superlative hand finishing throughout respecting 19th century style; internal bevel angles highlighting hand craft; polished bevels; Geneva waves; hand-made engravings.
Function: Hours, minutes, day, date, month, retrograde leap year and power reserve indicators
Power Reserve: approximately 72 hours
Water Resistance: 30 m
Dial: openworked salmon face
Caseback: sapphire crystal
Strap/Bracelet: hand-stitched alligator leather, stainless steel folding buckle
Factory Warranty: two years
First launched in 2015, the LM Perpetual has been since crafted in red gold, platinum, white gold, titanium, yellow gold and palladium.
In 2023, a new variation joins the family – the LM Perpetual Stainless Steel, carrying a rich salmon-coloured plate. The steel and salmon combination being a first for MB&F. The new edition also inherits the ergonomic corrector pushers first seen on the LM Perpetual EVO editions.
LM Perpetual features a fully integrated 581-component calibre − no module, no base movement − with a revolutionary new system for calculating the number of days in each month. And it holistically reinterprets the aesthetics of the perpetual calendar by placing the full complication on dial-free display underneath a spectacular suspended balance.
LM Perpetual turns the traditional perpetual calendar system on its head by using a "mechanical processor" instead of the conventional space-consuming grand levier (big lever) system architecture. The mechanical processor utilizes a default 28-day month and adds extra days as required. This means that each month always has the exact number of days required; there is no fast-forwarding or skipping redundant days. And while the leap year can only be set on traditional perpetual calendars by scrolling through up to 47 months, LM Perpetual has a dedicated quickset pusher to adjust the year.
With its open dial revealing the full complication and suspended balance, it's the harmonious mechanical beauty of LM Perpetual that really steals the show. And in an interesting technical twist, that eye-catching balance hovering on high is connected to the escapement on the back of the movement by what is likely to be the world's longest balance staff.
Using an innovative system developed especially for Legacy Machine Perpetual, the sub dials appear to "float" above the movement with no visible attachments. The skeletonized sub dials rest on hidden studs, which is technically impossible with traditional perpetual calendar mechanisms because they would block the movement of the grand levier.
Taking a clockwise tour of the dial, at 12 o'clock we see the hours and minutes nestled between the elegant arches of the balance; day of the week at 3 o'clock, power reserve indicator at 4 o'clock, month at 6 o'clock, retrograde leap year indicator at 7 o'clock, and date at 9 o'clock.
Related Products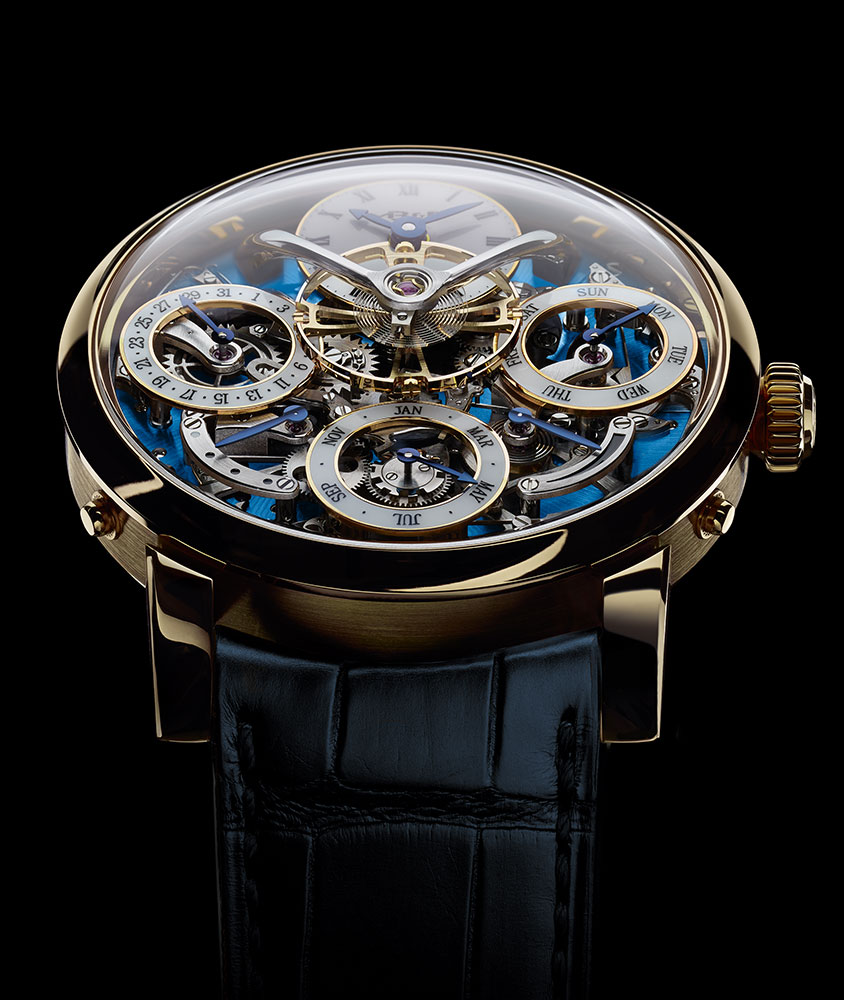 MB&F
LM Perpetual Yellow Gold
Compare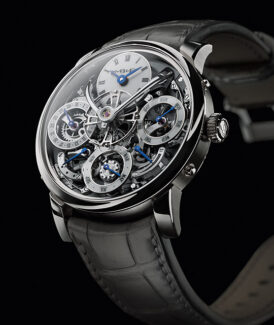 MB&F
LM Perpetual White Gold
Compare